The Nebrodi Mountains and Mount Etna, both located in Sicily, Italy, present a breathtaking winter scene when blanketed in snow.
Imagine the Nebrodi Mountains, typically covered in lush greenery, transformed into a winter wonderland. The ridges and peaks are adorned with a thick layer of pristine white snow. The trees, heavy with snow, create a picturesque, serene landscape.
In the distance, the majestic silhouette of Mount Etna rises against the horizon, its iconic cone covered in a glistening coat of snow. The contrast between the white snow and the dark, rugged lava flows creates a striking visual.
The Nebrodi Mountains and Mount Etna together form a spectacular panorama. The wild beauty of Etna and the gentle, harmonious curves of the Nebrodi complement each other in a breathtaking tableau. The sunlight reflecting off the snow creates a magical glow that bathes the entire scene.
This image captures the essence of Sicily in winter – a blend of strength and tranquility, grandeur and grace. The Nebrodi Mountains alongside the snow-clad Mount Etna form a picture of extraordinary beauty, captivating the eye and warming the heart. It's a landscape that leaves an indelible mark in memory, a lasting testament to the magnificence of nature.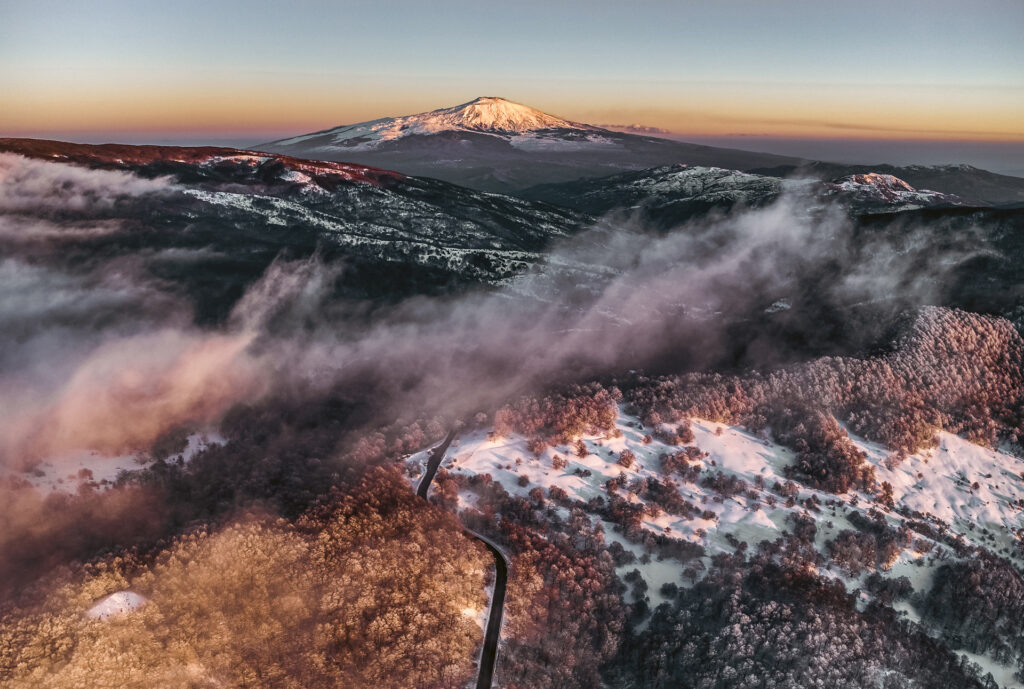 ---